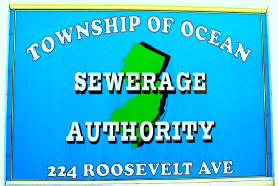 The Township of Ocean Sewerage Authority was created pursuant to provisions of the Sewerage Authorities Law (P.L. 1946, C.138, as amended) of the State of New Jersey, granting power to acquire, construct, maintain, operate or improve works for the collection, treatment, purification or disposal of sewerage or other wastes.

The Township of Ocean Sewerage Authority consists of five (5) members, each serving a term of five (5) years arranged so ending term dates do not overlap .

The Township of Ocean Sewerage Authority operates a 7.5 mgd pure oxygen-activated sludge wastewater treatment plant at 224 Roosevelt Avenue in Oakhurst. The Authority is responsible for 145 miles of sanitary sewer pipes and 12 pump stations. In addition to treating sewage flow for Ocean Township, the Authority treats flow from Allenhurst, Deal, Interlaken and Loch Arbour.

The Authority's operation adheres to government standards set forth in the New Jersey Pollution Discharge Elimination System (NJPDES) permit system .Our treated effluent is monitored daily by our onsite NJDEP certified laboratory staff. All data is reported NJDEP and US Environmental Protection Agency in accordance with established reporting requirements. Periodic inspections are conducted by the NJDEP and other regulatory agencies.

The Authority will continue its dedication to preserving our local water resources and maintaining a safe and healthy environment for the Township of Ocean and its neighboring communities.